2005 Coastal Art & Poetry Contest Winners
BLUE....
Blue is the ocean,
It is gentle yet strong,
It feels cool on a hot afternoon,
I hear the waves roar as they crash along the beach,
I taste the salt water rush down my throat,
I play with the waves,
I love what blue is....
Lauren Amaro
3rd Grade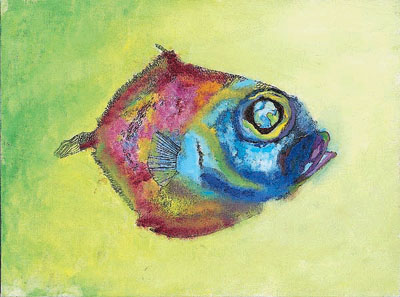 "Secrets of the Sea"
Paul Greene
Grade 3
---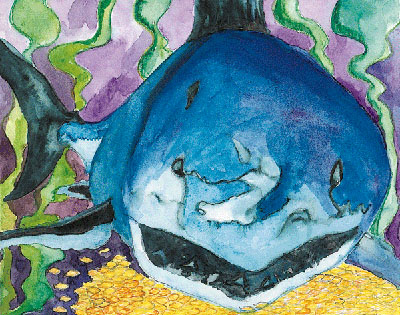 <
"Shark"
Dami Lee
Grade 6
The Ocean
The ocean's crystal waters
Dazzle in the light
Enchanted by the motion
I gaze upon the sight
Fish drift along the current
Colors dancing as they go
And deeper in the depths
Creatures wander to and fro
The sound of waves against the shore
Voice of gulls counting score
The ocean's breath against my face
Blowing with a dolphin's grace
Twisting, twirling, keeping beat
Mother Nature's greatest feat
Taylor Reynolds
Grade 6
---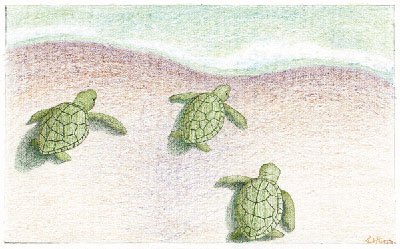 "Homebound"
Amanda Reiser
Grade 7


CRAB

I AM A CRAB WHEN I WAKE UP IN THE MORNING
I PINCH AND SQUIRM ALL MORNING LONG
I COME AT THINGS SIDEWAYS
SOMETIMES I HIDE UNDER A ROCK
I FEEL LIKE I AM ALONE IN A HUGE TIDE POOL
THERE ARE PREDATORS
THERE ARE PREY
I AM RIGHT IN THE MIDDLE
SOME ARE STRONGER
SOME ARE WEAKER
I AM IN SEVENTH GRADE

Camille Dawson
7th Grade

---
Dolphin Eyes
One day I might just leave
And walk down to the shore,
And in my gait,
You'd see some things
You've never seen before.
I might just metamorphosize,
Dissolve this life
And break my ties.
You've never seen the world
Till you've seen through dolphin eyes.
Ryan Luecke
Grade 11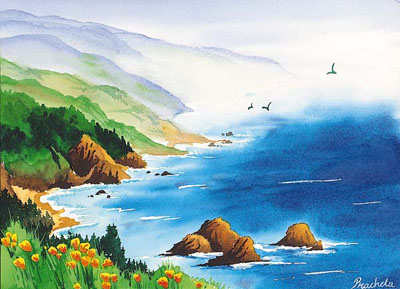 "Big Sur Coast"
Pracheta Kokate
Grade 11