2015 Coastal Art & Poetry Contest Winners
GRADES K-1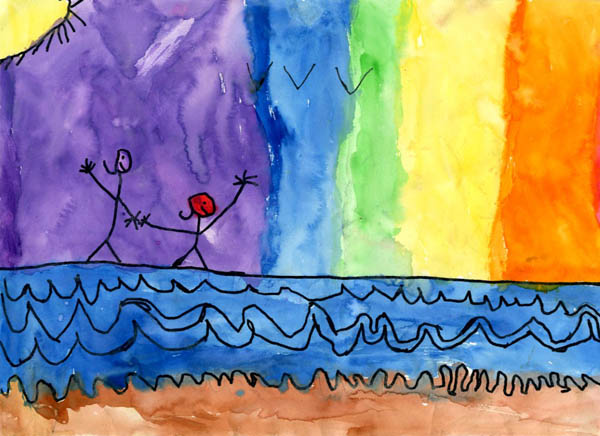 Happy Beach
Miranda Underwood
1st Grade, Arcata
---
The great white!
I don't know what it is about you but I'm fascinated.
Maybe it's your cold eyes
Sharp teeth
Big jaws
I love you great white shark!
I don't want to swim near you...
But I want to protect you, so you can live forever!
Elin Ekenheim
TK, Belmont
Listen to Elin read her poem, recorded for TAB, The Journal of Poetry & Poetics.
---
---
GRADES 2-3
---
The Waves at the Coast

The waves at the coast
roar into life
like lions, tigers,
any type of carnivore,
and then they crouch down
like a completely
harmless creature.
We wait for the next roar
of waves to pick up
and start the raucous cry again.


Arianna Traub
2nd Grade, San Rafael
---
---
GRADES 4-6
---
The Great Line
What is the horizon line,
that great Line,
that's been there since the beginning of time?
That great line,
stretching stretching across the earth,
that has confused mankind,
since mankind's birth.
That great line,
down at the bay,
and under its watch the dolphins play?
But alas when we try to figure out,
that line just keeps on moving out,
as we get closer, it goes farther,
Away, away, away...
Isha Singh
4th Grade, San Jose
Listen to Isha read her poem, recorded for TAB, The Journal of Poetry & Poetics.
---
---
GRADES 7-9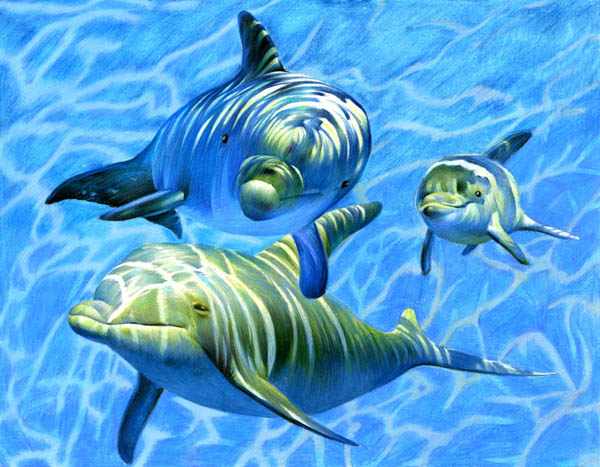 The Swimming Family

Roselene Chen
8th Grade, Fremont
---
She Is The Ocean

Hand in hand, the sun felt warm but not as warm as Her hand.
The breeze strong, but not as strong as Her words.
Down the wooden steps until our feet touched the warm, soft sand.

Some days, we would listen to the ocean through sea shells;
Some days, we would watch it as it touched our feet,
I am the ocean, she would say,
Never did I understand until this day.

Today, I hold her hand although it's not the same.
My feet burn as they take each step,
But the pain doesn't beat the pain in my heart.
I continue my stroll, step by step
And still I cannot bear to part

The ocean water is chilly
As if the creatures themselves can feel my pain.
For she has torn my heart apart
By leaving me on this day.

Her ashes fly in the wind, freely, calmly.
Slowly, she makes it to the ocean and becomes a part of it.

Now I understand
She was right all along
She is the ocean


Emily Su
9th Grade, Alhambra
Listen to Emily read her poem, recorded for TAB, The Journal of Poetry & Poetics.
---
---
GRADES 10-12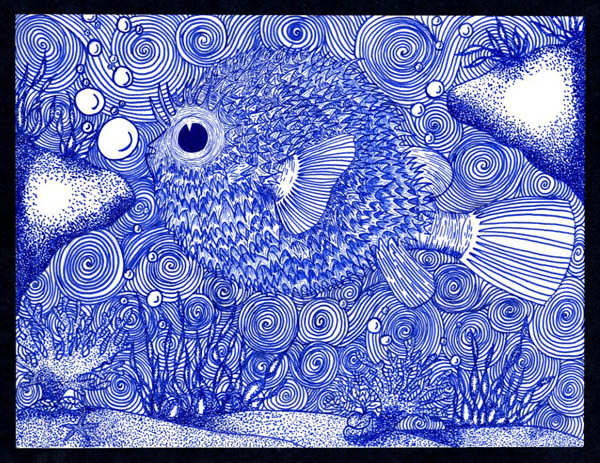 Pufferfish

Helen Reyes
12th Grade, Azusa
---
California Soaring

Trees, amazing redwood trees,
So tall and majestic, Mendocino magic.
I find my way above their fray,
Coastal spray and trains that wind from mountain to bay.

Eyes squinting to see through billowing fog and mist,
What's this: A rust colored golden gate towers above slow moving clouds.
My soul breathes in the cold, salty ocean air,
As arms open to greet me, inspire me, give my wings life.

My California spirit is soaring now,
San Francisco winds gently lead me south.
Finally, a place to rest at the Monterey sea crest,
An oasis wild and free, teeming with my kind.

There they are, old souls with powerful blow holes.
Slow and steady, I feel their life rhythm beneath me.
My humpback friends lead me now,
Continuing my journey south to tinsel town.

Ah, now for some action!
The Santa Monica Pier deserves my attention.
A morsel of food to fill my bill,
A city of angels and dreams to fill my wings.

My home, independent and free,
I see all this California can be.
The golden coast is more than a view.
It is a preview of what can be, a possibility,
Where free spirit meets every aspect of beauty.


Amanda Vallecorse
11th Grade, South San Francisco
Listen to Amanda read her poem, recorded for TAB, The Journal of Poetry & Poetics.
---
---