2011 Coastal Art & Poetry Contest Winners
GRADES K-1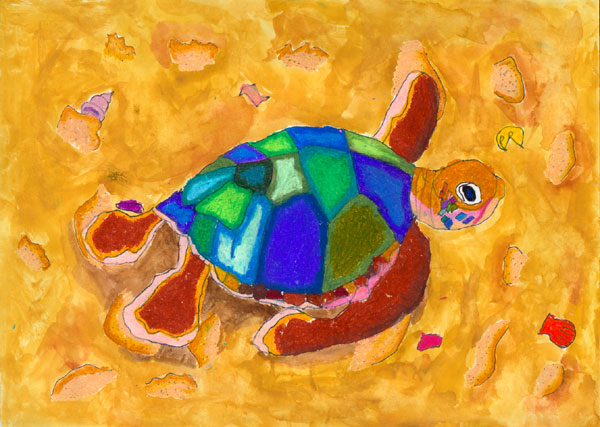 "To the Home in the Waves"

Julia Kim
1st grade, Irvine
---
The Beautiful Ocean

My red hair whirls
The bright blue ocean swirls
I smile at the sea
Elizabeth Brem
1st grade, Yorba Linda
---
---
GRADES 2-3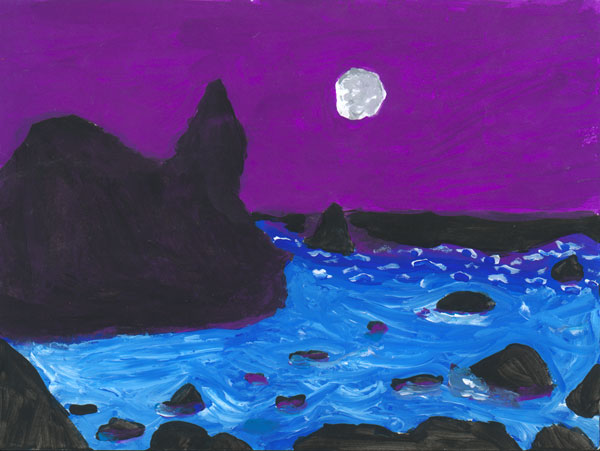 "One Magnificent Midnight"

Olivia Hemstreet
3rd grade, San Clemente


---
Water

Water is still
and cold. The cool
liquid nibbles my toes.
Small white pearls
at the end of a wave.
A wave crashes into my face.
A smile leaps on me.
Tallula Sorst
3rd grade, Corte Madera
---
---
GRADES 4-6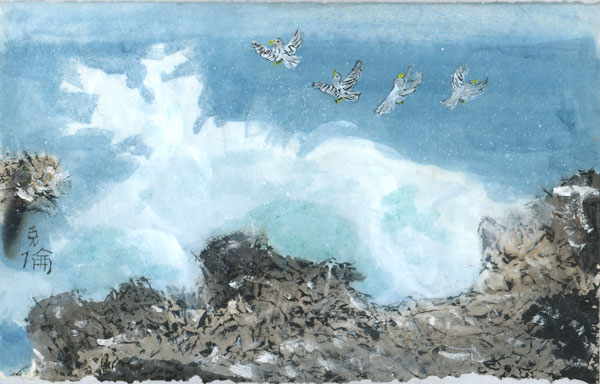 "Splash of Beauty"

Karen Dooley
5th grade, Redwood City
---

To Be Kelp

To be kelp you must
have long flowing
green arms,
and slimy wet skin
like an octopus.
You may only have strength in the water
The place of your birth.
You must be strong,
for those that depend on you.
You should welcome the fish
bothersome as they might be.
Give the crabs
and sea stars a safe haven,
even if they might annoy you at some times.
You must endure a prick at the side,
or a snap at your feet.


Be strong,
you must have a tough hold
toes clasping to the rocks
with the power to overcome raging tides,
and human devastation.


You must be able to step into the arena
to prove your dedication to becoming something so beautiful,
so powerful,
so kind,
so well known in the underwater kingdom,
that you can finally be granted the noble title
Kelp
Lenni Elbe
5th grade, Encinitas

---
---
GRADES 7-9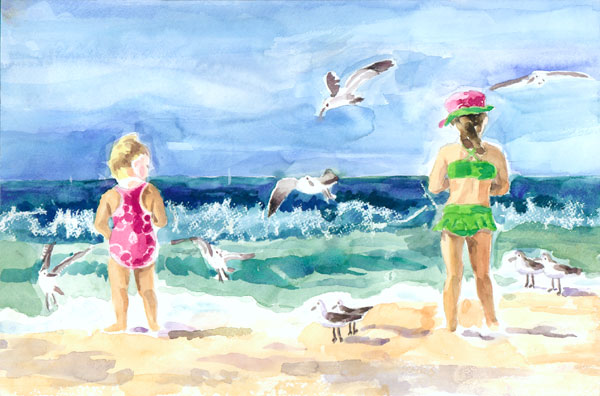 "A Day With the Seagulls"
Rinette Korea
7th grade, Tustin
---
Crustaceans and Blueberry Scones

It's early and cold, wet and damp
I hurry over from nearby camp
spying the lighthouse I feel safe (but not warm)
I'm going tide pooling, come wind, come storm.
I hop carefully 'cross the rocks
slipping I accidentally wet my socks.
I see the perfect little puddle
and spy a crab as it scuttles
bending down to pick it up,
I see a fisherman with his pup.
I overturn the nearest stone,
and wish for a hot and buttered scone.
Crabs dash out, I grab one, then two
they run all over my lime green shoes.
Pausing, I see a monster crab
it was as big as a taxi cab!
(Okay, fine, maybe my hand)
it turned and scuttled towards the sand.
Hurrying I bent and grabbed at it
its claws seemed to have a fit!
Snapping and pinching he scuttled away,
until under a monstrous rock he lay.
Groaning and heaving, I pushed with all my might
until the rock fell over in the early mornin' light.
I reached out and carefully took hold of his shell,
took one step back...and spectacularly fell!
Not once relinquishing my tentative hold,
I clambered up out of the wet and the cold.
Studying his purplish-red body and legs,
I sat on a rock the size of a keg.
His waving claws signified anger,
I was the outsider, the complete and utter stranger.
After a while I set him free,
he stopped, seemed to wave, and smiled at me.
Walking off over the wet and damp stones,
I headed back home to hot blueberry scones.
Shannon Lee
7th grade, Yuba City
---
---
GRADES 10-12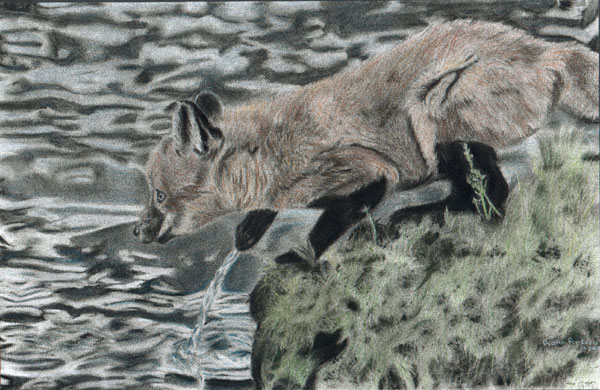 "Adventure at the Elkhorn Slough"

Diana Fonseca
12th grade, Hollister
---
The Ocean Knight

In the dying embers of day
The silent and empty shore
Of San Franciscobay.
The ocean I adore.

The full moon, a midnight pearl,
Down its sparkles were cast
To play on the ocean's curl
A wave, each like the last.

From under a rock, a crab
Scuttled forward on the sand.
Suddenly it made a grab
Yanking a white strand.

The wind brought the bag to life,
Writhing against the crab's hold
It waved as if in strife
Grabbing the crab, acting bold.

The poor crab was enveloped
As the bag tightened its grasp.
An emergency developed
No air, the dying crab's gasp.

Suddenly a helping hand
Freed the suffocated crab,
Who scuttled across the sand
Hiding under a rocky slab.

Disposing the plastic bag
Properly; in the right place.
Another crab it won't snag.
A smile lit across her face.

Ocean Knight, do stay!
Cleaning the empty shore
In the San Francisco bay
Saving the ocean I adore.

Meera Kumar
11th grade, San Ramon
---
---