2011 Coastal Art & Poetry Contest Honorable Mentions
GRADES K-1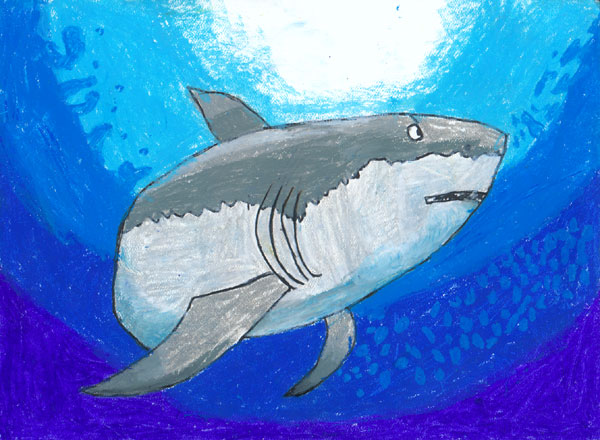 "Shark Attack!"

Gideon Choi
Kindergarten, Cerritos



---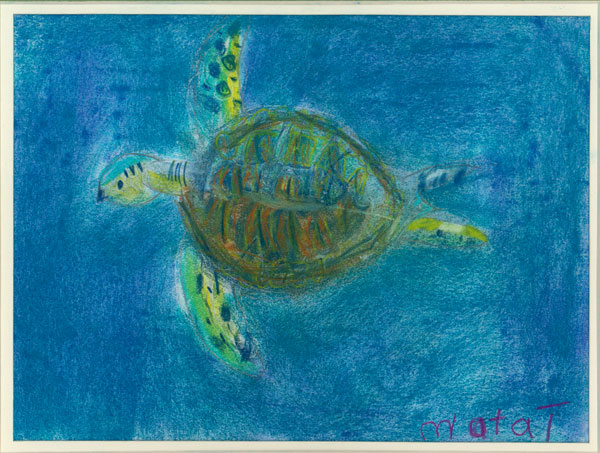 "Swimming in the Water"

Tatom Hoffmann
1st grade, Camarillo
---

I love the beach,
And the whales,
Colorful waves and beautiful water,
Rocks and some reflections.

Griffin Kelleher
Kindergarten, Laguna Niguel
---

"The Three Little Sea Turtles"
Bhavya Kadiyala
1st grade, Cupertino




---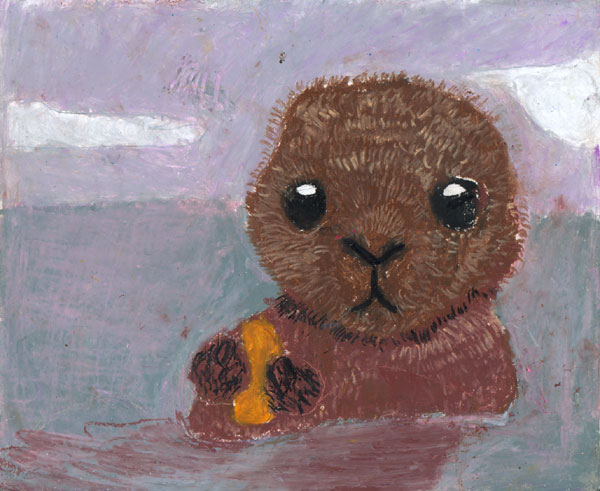 "Otter Surprise"
Roshan Rodrigo
1st grade, Bellflower






---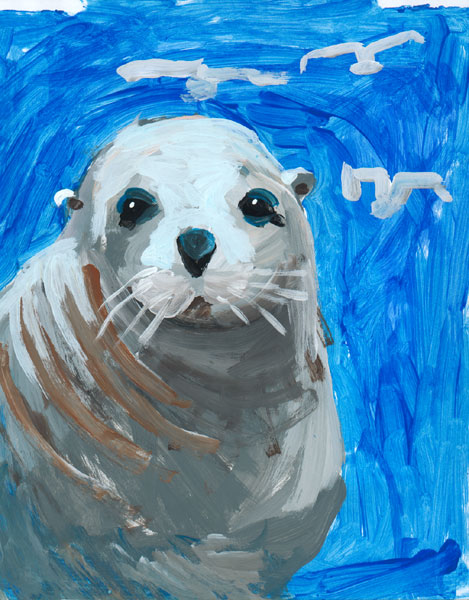 "California Sea Lion"
Maximus Wu
Kindergarten, Sunnyvale
---
Me and my brother like to chase the birds
And my brother likes to play in the water.
We dig holes in the sand.
The water is cold and we saw fish,
But the fish don't mind the cold.
We try to put seaweed in my dad's pants...
.........but he runs away.

Nicole Donahoo
Kindergarten, Laguna Niguel

---
GRADES 2-3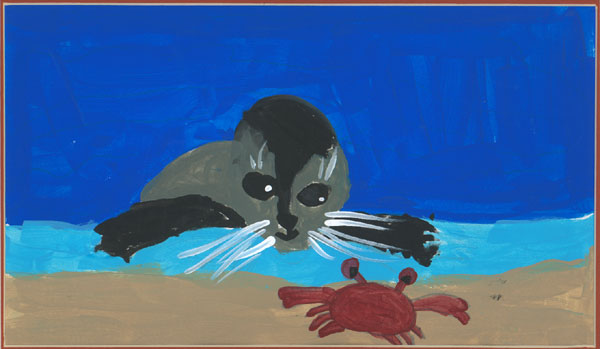 "Be My Friend"
Kirra Salazar
2nd grade, Huntington Beach



---

Sand

The wet sand
squishes at your feet.
The dry sand scares
the ocean
and makes it
run away as fast
as the rushing waves
can go.

Serafina Stechman
3rd grade, Mill Valley


---

The Creek

The creek
flows into
the ocean
like a shark
hunting for
its prey,
twisting,
turning,
trickle,
trickle,
disappearing
into the
ocean.

Brian Thorpe
2nd grade, Walnut Creek
---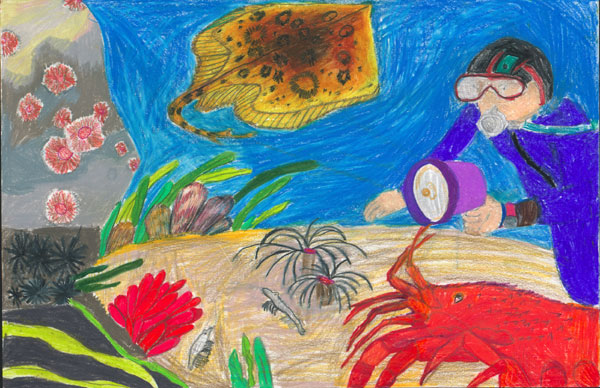 "Under the Ocean"
John Kim
2nd grade, Los Angeles



---

The Ocean

The
ocean
goes
crash
on
the
beach.
It's
like
a
block
of
ice
getting
dropped
on
the
floor.

Joseph Anderson
2nd grade, Walnut Creek


---

San Clemente Pelican

Pelicans smellicans yes siree!
Sitting by the sea as happy as can be.

They love each other, fly together, eat fish too,
What else do you think a pelican can do?

This one stays here on the pier,
Watching the passersby without fear.

He calls San Clemente his home sweet home,
And sits on the rail like a garden gnome.

When the time comes he's off to chase,
The dinner meal he has in place.

Scooping up the fish with his big long beak,
Eating sushi so to speak.

I'm always amazed when I see him in flight,
I hope I see him in the bright light tonight!


Olivia P. Newbold
2nd grade, Mission Viejo

---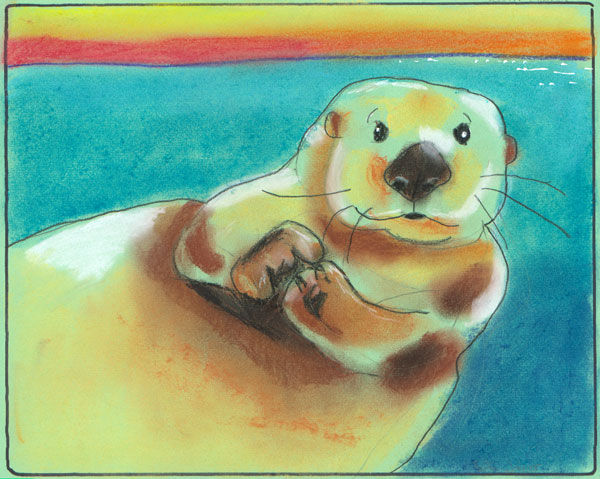 "Sea Otter at Sunset"
Faith Joiner
3rd grade, Twin Peaks





---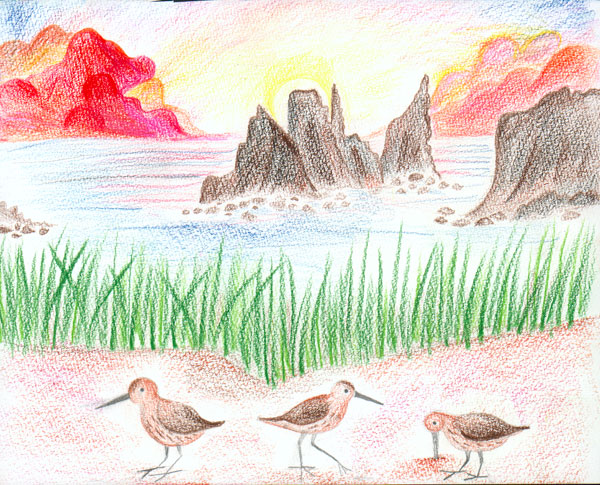 "Sandpipers and the Sun"
Nell Castor
3rd grade, Mill Valley

---
GRADES 4-6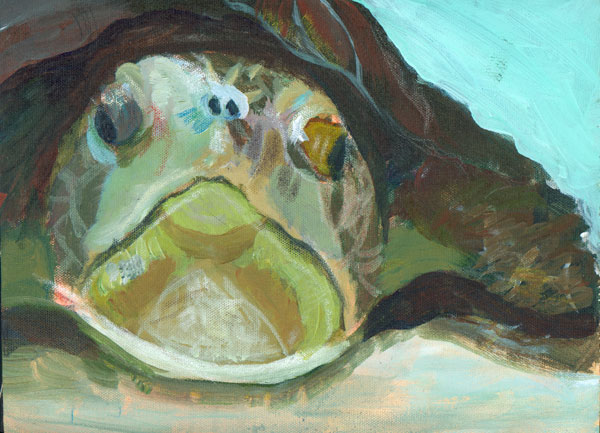 "My Sea Turtle Friend"
Eric Frankel
5th grade, Santa Ana
---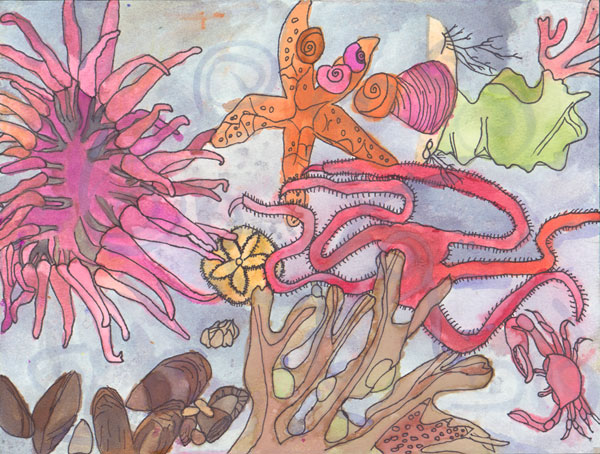 "Tidepools"
Juan Amezquita
6th grade, Redondo Beach
---
Sunset by the Ocean

The sun
starts to dissolve
with a trail
of what he did.
Like when he swooped
over a forest
or when he made
a kid so hot
she jumped into a pool.
and he lets go
of the rainbow
he got caught in
and disappears behind the ocean.

Scarlet Hartzog
5th grade, Mill Valley
---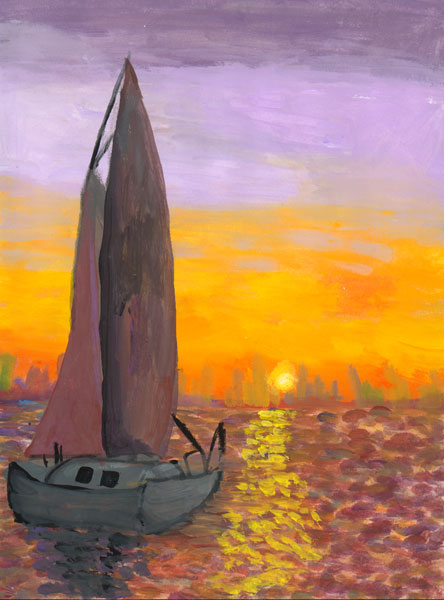 "Sunset Sailing"
Grace Li
6th grade, Cerritos
---
Storm on the Coast

Fog, a white curtain, closes in on a restless sea.
Liquid claws tear at the shoreline, whipping themselves into spray.
Driftwood and seaweed jostle to join the chaos.
The weary old sea grass is soaked and blown flat.


Pitter patter pitter pat goes the rain on the sand.
My day of fun ends abruptly.
The droplets make craters in the soft, shifting earth.
I make my way back through the tempest,
following the markings of my travels out.


Then sounds of the wind and the ever-pounding waves drown out everything.
I am invigorated by the din and race across the sand.
A flock of seagulls wing their way toward a trembling Cypress tree.
And I, like the seagulls above me, tear along the shoreline, homeward bound.

AJ McCalla
6th grade, Sebastopol
---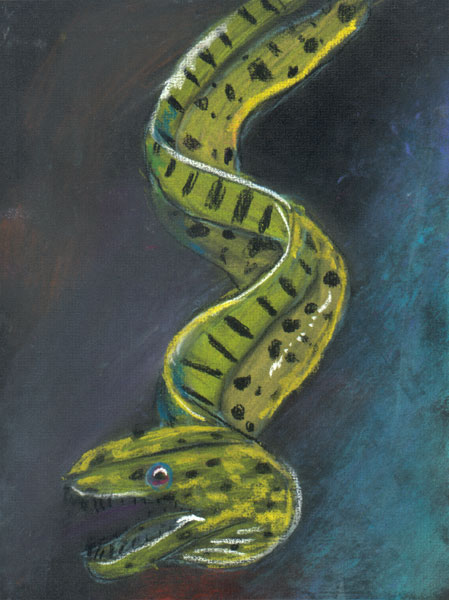 Paul Harteck
5th grade, Santa Barbara






---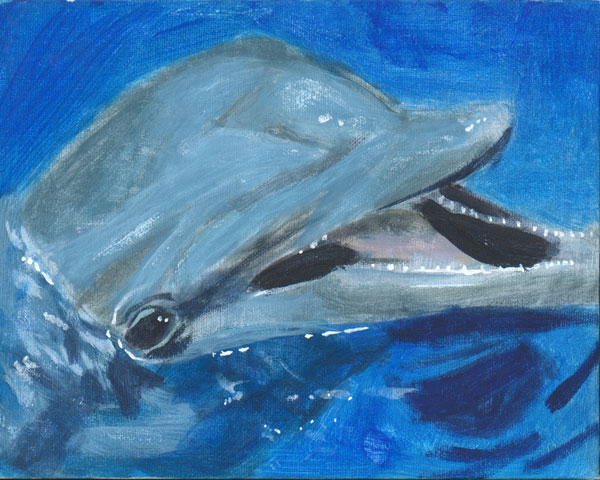 "Dolphin"
Edward L. Smith
4th grade, Rancho Cucamonga
---
Feeding Frenzy

Slender dolphin flies
In silence
Liquid moonbeams
Flow
In a pack,
A beautiful
Cascading
Waterfall, the rush quickens,
Dignity forgotten,
SNAP! SNAP! SNAPSNAPSNAP!
Then,
Frenzy over,
Thunder subsides
To lightning,
To nothing.
Content.

Nina Morch
4th grade, San Diego
---
GRADES 7-9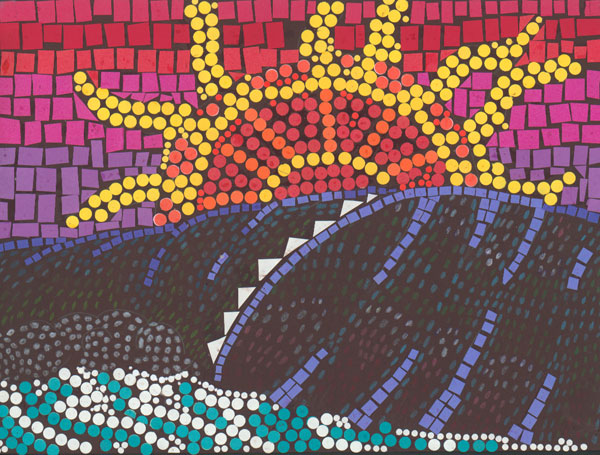 "My Ocean"
Sierra Emrick
8th grade, Los Osos
---
Fog

The white fog creeps
From the cold sea
Over the sleeping city
Around the pale grey
Tumbling towers
And rambling houses
Settles among the roofs and walls
Along dark streets it crawls
Curling like dreams
Among the motionless trees
And seems to freeze

The fog slips ghostlike
Into a thousand rooms
Whirling over sleeping faces
Spinning in a transparent dance
Around misty street lamps
And blows in cloudy waves over open spaces
And one form
from his high window looking down
Peering across at the white town
Thinks his island tower
Is a dream

Jade Marshall-Mobert
7th grade, Gualala
---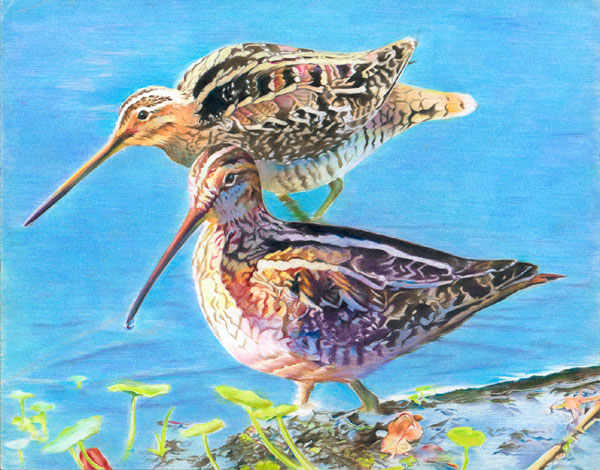 "Morning Light Reflections"
Jennifer Chen
9th grade, Union City
---

The Ice Plant

She crawls along the shore,
Searching for prey to encroach upon;
They have no escape,
And she knows this.
Her glacial persona
Portrays the "ice"
In her name.
Sometime soon,
Her tormenting endeavors will
Come back to bite her
But for now,
She crawls along the shore.
Someone is next.

Natalie Burrous
8th grade, Corte Madera
---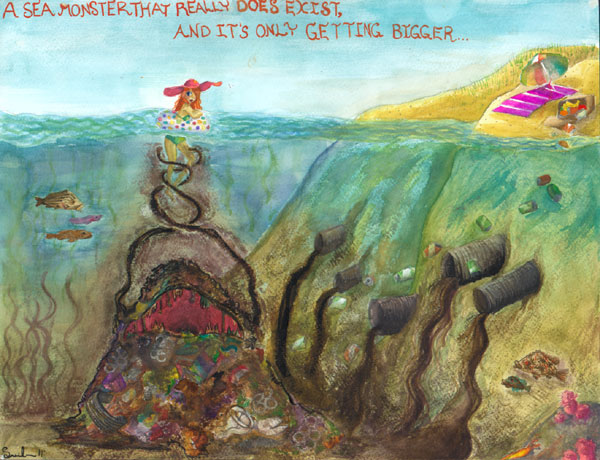 "A Sea Monster That Really Does Exist"
Sarah Wilson
9th grade, San Mateo
---
A Mystery

Fog spills over
the side of the Marin Headlands
cascading down
like a silent waterfall
mutely splashing and billowing boulders
it collects at the bottom of the hill
a mirror of its sister the Lake
then disappears
a ghost of existence.

Audrey Webster
7th grade, San Anselmo
---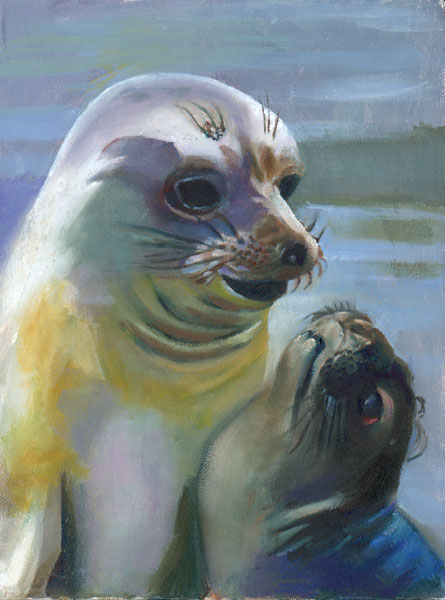 "Happy Hour"
Yandi Wu
9th grade, Pleasanton

---



Under the Sea

If I were a fish under the sea,
I would swim where ever I wanted
because I am free.
I would swim along with the ocean's tides, and play
all day on the seaweed slides.
I'd find sunken treasures that pirates once lost
and buy anthing that had any cost.
I'd have Big puckered lips and have huge spikey fins.
With bubbles and bobbles all over my skin.
But the Biggest of wishes for all of us fishes
is water so pure we can see every lure.

Tyler Nino
8th grade, El Segundo

---
GRADES 10-12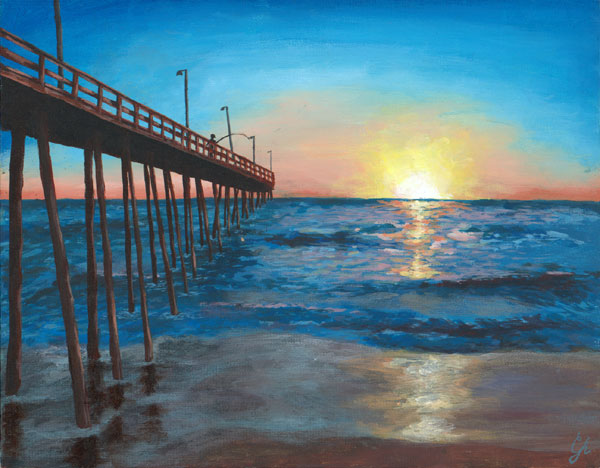 "California Dusk"
Chrystal Yen
11th grade, San Marino
---
The Hermit Crab

What a lonely creature
Hiding out in his shell, his personal home
A companionless crustacean
Without fishes for friends
Too shy to be social
Insecure about his colossal claws
Black, beady eyes that reflect no emotion
Prominent, ponderous appendages that poke and probe
So he carries a callous coat to cover his countenance,
Seeks solitude in the tide pools,
And forges a future among the rocks

Emma Feshbach
12th grade, Mill Valley
---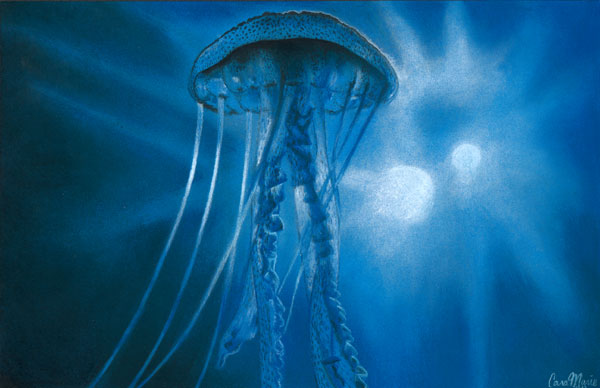 "It's a Jellyfish Dream"
Cara Marie Esteban
10th grade, Hollister


---
Stars

Honesty exists in cerulean pastels
I'll catch the butterflies underwater
The paintbrush called my childhood scribbled the beach with
beautiful imperfection
I loved those memories...so much.
despite the sunburn, I could still feel the peace of blue.
Can an insignificant seashell be so profound?

Bike rides, Pacific Beach sidewalks
Hopefully, I'll meet the water-lily tree
Comfortable silence
Can I make dandelion wishes underwater?

Fireworks are fireflies and castles can be made in the sky
Blue makes me imagine.
I can prove to you all that dandelion wishes can be made underwater
Look up.

Arielle Amante
10th grade, San Diego
---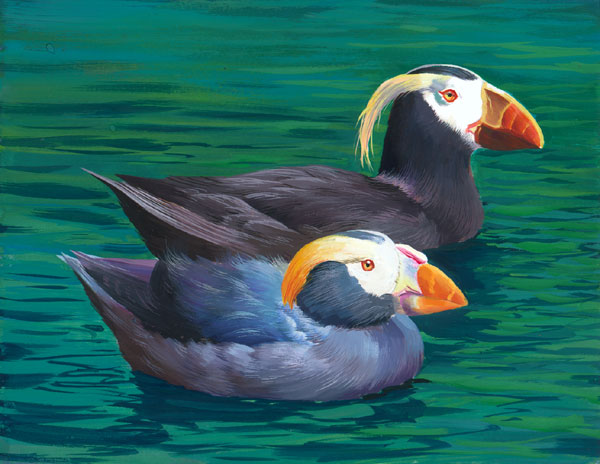 "Once Upon a Midafternoon's Dream"
Christy Wang
11th grade, Fremont
---
A California Sea Dweller's Forgotten Home

A sea star and a vast arrangement of delicate shells
Lie in a small red bucket as I walk down the beach;
They are carried from near and far by the Pacific swells
And now each is here, within my reach.

Each one has a story only it knows,
It was a home from dusk 'till dawn;
But this little shell never grows,
So its little sea dweller is soon gone.

The little sea dweller must find a new home,
Leaving behind this fine little dome.

To think that once within this little work of art,
There used to beat, a tiny little heart.

Carolyne Erlach
10th grade, Santa Barbara
---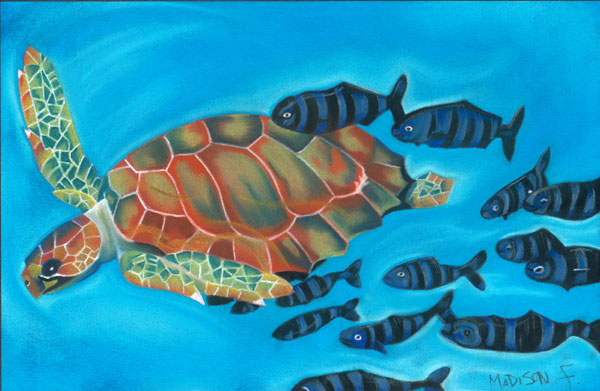 "Sea Turtle"
Madison Fernstrom
11th grade, Tres Pinos
---